CAMEO (Come and Meet Each Other)
CAMEO meet for a social coffee and bible study on a Wednesday morning commencing at 1030 during term time. For more information contact Angela Chandler.
Choir and Music Group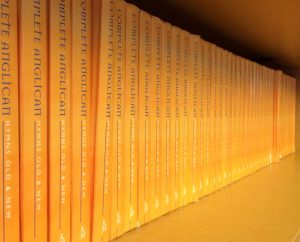 We have a four Part Harmony RSCM Choir that meets for Choir Practice at 1830 on a Friday evening in the church.  The choir is accompanied by a 2 manual and pedal digital Organ.  We also have a small music group made up of a guitar and piano. We are always looking for new people to join the choir or music group.  For further information please contact Shaun Brady.
The Rainbow People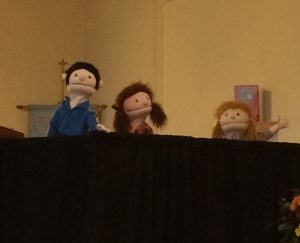 The Rainbow People are our resident puppets. They have helped  spread the Good News for over 12 years, regularly appearing at the Family Service.  For more information contact     Angela Chandler.
Crafty Church
Crafty Church is a group of ladies who meet every Monday between 1300 and 1500.  They enjoy knitting, crocheting and cross stitch; they also enjoy a good chat. There are between 10-15 women every week.  The only cost is 20p for tea and biscuits. For further information please contact Brenda Brown.
Ladies Group
Southway Ladies' Group meets in the church (using the side door rather than the main entrance) on the second Tuesday evening of each month except February.  Our meetings start at 1930 and finish by about 2100.  We are a friendly group of (mostly) retired ladies and we are very informal. We have speakers on various topics and we all have a chat and refreshments before we go home. However, twice a year,  instead of the evening meeting we go out for lunch together, once in July and once in January and we have an occasional Bring and Buy to boost our funds. Annual membership costs £2 and we contribute £1 towards the refreshments (tea/coffee and biscuits) at each meeting. We would be delighted to welcome new members to our group. For further information please contact Sue Whitby.
Sunday Club
Sunday Club is for children of Primary School age and meets in the church hall at 1000 on the 2nd, 4th and (if service is held at Southway) 5th Sunday, during term time. We play games, do crafts and learn more about Jesus. We then join the congregation in church for communion. For further information please contact Helen Shore.